Bearcat Benefit: Building for the Future was a huge success! Held at the South San Francisco Convention Center on Saturday, October 9th we had over 200 people in attendance. The evening festivities began with the Bearcat Bravo Champagne Cocktail Pre-Party to celebrate the high level donors.  This was followed by the silent auction where guests bid on over 100 silent auction items including our new basket category! At 8:00 we sat down for dinner.  Sue Harris and Terry Sprague, the Benefit Co-Chairs, welcomed everyone to this very festive occasion.  After dinner our Foundation Co-Presidents, Julie Borden and Jeff Cantor spoke about what the Foundation means to SMHS with a rousing new version of the popular song YMCA created for SMHS. Gary Gerber led our very spirited Live Auction that raised over $30,000.
Fund-a-Need is a portion of the Live Auction where people contribute to a specific school need.  This year our cause was document cameras for every classroom that requested one. We achieved this goal and were able to purchase 40 by raising $29,000 for Fund-a-Need!
SMHS students were well represented at Building for the Future. We had student volunteers to help with auction checkout, a student photographer capturing our event on film, members of the amazing SMHS Drama Department performing songs from the first play of the season, "The Spelling Bee", dancers from SMHS Dance Department performing several exciting dances and musicians from SHMS Music Department playing jazz music during our cocktail party.  There is a lot of amazing talent at SMHS and the performances were truly a highlight of the evening!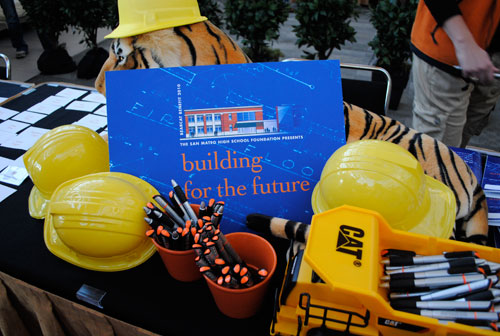 Our net proceeds from Building for the Future are over $95,000.  Thanks to everyone who attended, contributed, and volunteered to make this happen.  We couldn't do this without your support and generosity. 
A heartfelt thank you to our Co-Chairs:  Sue Harris and Terry Sprague.  Their leadership was critical to our success. 


---